To all the chicken lovers out there, you should definitely try this boneless skinless chicken thighs air fryer recipe. Boneless, skinless chicken thighs cooked in an air fryer make a nutritious, hassle-free, and delicious weeknight meal. Crispy skin and juicy, tender meat are the results of air-frying chicken thighs.
Prepare these deliciously crispy chicken thighs in just 25 minutes with this simple recipe. Try this tasty air fryer boneless skinless chicken thighs out on a weeknight if you're at a loss for what to cook. Chicken thighs cooked in an air fryer take less than 25 minutes to prepare and have a perfectly crisp outer layer and a tender inner layer.
Ingredients To Make Air Fryer Boneless Skinless Chicken Thighs
Boneless Skinless Chicken Thighs
To make the spice, you will need:
Oregano, smoked paprika, garlic powder, Pepper, Basil, and oregano.
To achieve a golden crisp exterior on the chicken, nonstick cooking spray is an essential ingredient. Even though regular non-stick spray works fine, my personal preference is for sprays made with olive oil or avocado oil.
Detailed Instructions To Cook Boneless Skinless Chicken Thighs In Air Fryer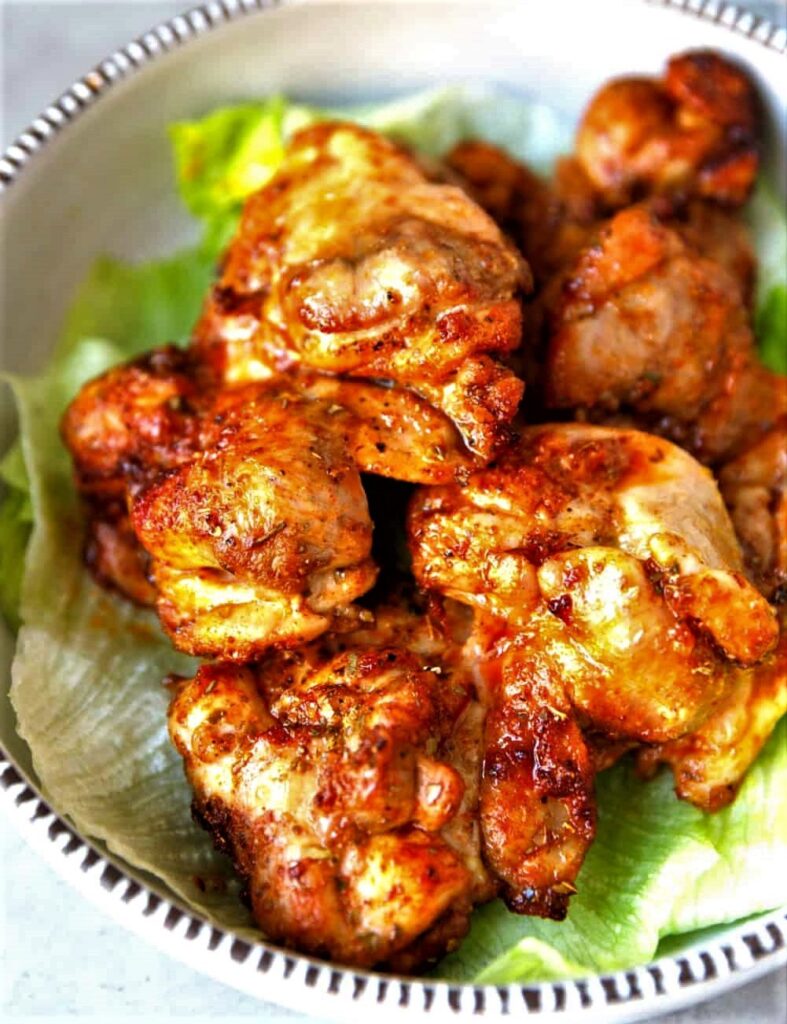 Rub some oil into the chicken thighs and season as desired.
Mix paprika, salt, and pepper with Italian seasoning and a pinch of pepper in a separate bowl. Season the chicken thighs without the bone and skin. Coat the chicken with the rub.
Use non-stick cooking spray to coat the air fryer basket. Make room in the air fryer's basket for a single layer of chicken thighs.
Put it inside for 12 minutes at 380 degrees Fahrenheit.
Cook chicken thighs for another 6 minutes, or until golden and crispy.
The chicken should be cooked to an internal temperature of 165 degrees Fahrenheit in the thickest portion.
Fresh parsley should be chopped and used as a garnish.
Serve right away with a dipping sauce of your choosing or as a main dish with a selection of your preferred accompaniments.
Enjoy your skinless chicken thighs in air fryer
Expert Tips:
Oil is already present in the marinade, and the chicken will release more of its own during cooking, so spraying the basket isn't necessary. Use porous parchment paper if sticking is a concern.
Don't jam too many things into the basket. If necessary, divide the cooking into smaller batches.
It is highly advised that a meat thermometer be used when preparing meats. If you don't have a meat thermometer, cut into the thickest area to see if it's done. The meat should be white, and the juice should be clear, not crimson.
The air fryer was not warmed for this recipe. However, if frying in batches, the air fryer may get prepared on the first batch, allowing the subsequent batches to cook more quickly.
Storage System Of Boneless Skinless Chicken Thigh Recipes Air Fryer
Save any leftover boneless skinless chicken thighs air fryer by placing everything in a sealed jar and placing them in the fridge. They're good for up to three days after being made.
chicken thighs cooked in an air fryer can be frozen for up to two months. To freeze them, either wrap them securely in bubble wrap or put them in a freezer bag.
If frozen, let defrost in the fridge, then air fry for 4 to 5 minutes at 380 degrees Fahrenheit.
Nutritional Value Of Boneless Skinless Chicken Thighs Air Fryer Recipe
| | |
| --- | --- |
| Calories | 313 kcal |
| Carbohydrates | 1 g |
| Protein | 19 g |
| Fat | 26 g |
| Saturated Fat | 6 g |
| Polyunsaturated Fat | 6g |
| Monounsaturated Fat | 12g |
| Trans Fat | 0.1g |
| Cholesterol | 111mg |
| Sodium | 379 mg |
| Potassium | 258 mg |
| Fiber | 1g |
| Sugar | 0.1g |
| Vitamin A | 294IU |
| Vitamin C | 3mg |
| Calcium | 29mg |
| Iron | 1mg |
Frequently Asked Question
I Have Forgotten To Defrost The Thighs, Can I Put The Raw Thighs In The Air Fryer?
You can, in fact, air-fry raw, frozen chicken. Unless you forget to defrost your chicken, this is a good backup plan. The outcomes are not so juicy but it will still taste heavenly.
Why Use An Air Fryer To Prepare Boneless Skinless Chicken Thighs Air Fryer?
I'm so pumped to give you this easy recipe that is suitable for even the most finicky eaters in the family. It is also gluten-free and simple to incorporate into a healthy lifestyle. The air fryer also needs less oil to cook delicious chicken thighs, so use an air fryer to make skinless chicken thighs in the air fryer.
Can I Use My Air Fryer To Cook Raw Air Fry Chicken Thighs Skinless?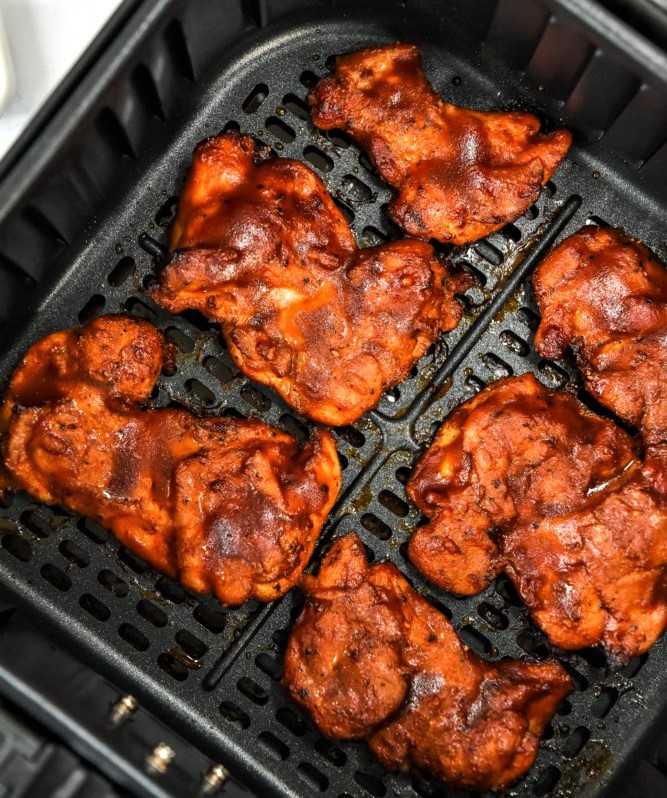 Certainly! The boneless skinless chicken thighs air fryer recipe is my go-to, and I recommend cooking them for 10 minutes at 380°F, flipping once, and then cooking for another 5-6 minutes, or until an instant-read thermometer registers 165°F. Putting uncooked chicken into an air fryer?
To what extent can chicken thigh pieces be stacked in a deep fryer?
When using an air fryer, remember to leave some space between the food and the walls of the appliance so that airflow can circulate and fry it evenly.
Is This Recipe Healthy?
Air-fried chicken thighs are a great keto option because they are low in carbs, don't contain any dairy, and are dairy-free. They pair splendidly with a green salad, some roasted vegetables, and some garlic bread for a healthy and filling weeknight meal.
What Side Dish Would You Recommend With Boneless Skinless Chicken Thighs Air Fryer Recipe?
Perfect with Spanish rice, fried brussels sprouts, and/or skillet-roasted potatoes, feta harissa roasted carrots. This air-fried fried chicken will become a family favorite.
Should I Use Boneless-in, With Skin Chicken Thighs Instead?
Yep! Since I've tried this recipe with and without the bone, I can tell you that 15 minutes on the initial side of bone-in chicken in the air fryer is perfect, and 12 on the second. Again, this can vary according to the size of chicken thighs, but in general, the bone-in chicken will need a bit more time in the oven.
I sincerely hope you loved my boneless skinless chicken thighs air fryer recipe. If you give it a try and find it useful, please leave a comment down below. I'd definitely appreciate it.
Don't be shy about telling your social media followers about it!