My new favorite dinner dish is Roasted Cherry Tomato Pasta. Al Dente pasta is mixed with roasted tomatoes to make a quick and easy meal. There are several ways to enjoy this dish, from a meat-free option to one that includes some kind of protein.
Take a taste of our Roasted Cherry Tomato Pasta and savor the vibrant flavors. Al Dente pasta is mixed with roasted tomatoes to make a quick and easy meal that is easy to make. You can cook it in only a few minutes and it's delicious!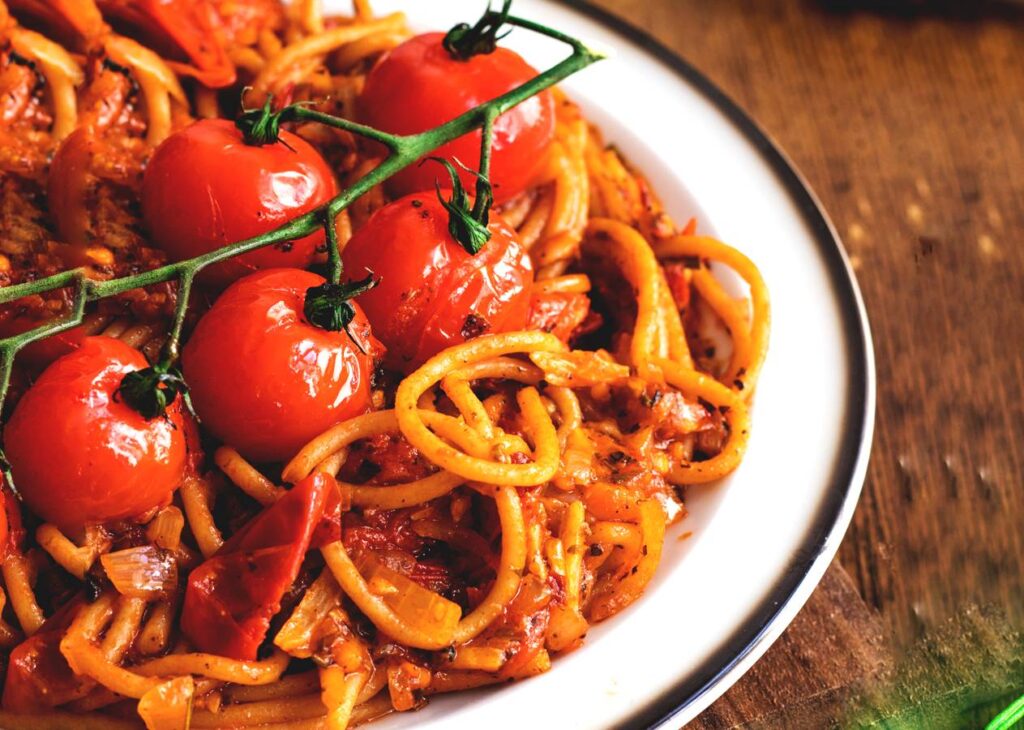 I love making cherry tomato and pistachio pasta but pasta with Roasted Cherry Tomatoes is a favorite of mine to cook. If you don't have a lot of time to make a sauce or if you want a lighter meal that won't make you feel full, this is the dish for you.
Although this recipe appears to be simple, don't be deceived. Cherry tomato pasta sauce; a flavorful sauce with a light texture is needed for making this pasta. In terms of presentation, there is a slew of options for this meal. There are several ways to enjoy this dish, from a meat-free option to one that includes some kind of protein.
I baked roasted tomatoes with garlic, olive oil, spices, as well as herbs. Afterward, I cooked the meal in the oven. The tomatoes take a long time to roast, so while they were doing that, I was boiling water for the pasta. As easy as that is don't make it any better. Even though this roasted cherry tomato pasta is basic, the finest things in life are often the simplest.
Why This Recipe Favorite to Us
Many people will enjoy this meal. Naturally, it is gluten-free with the right pasta. It can also be vegan if it doesn't have cheese or if it has vegan cheese.
It's also a dinner that almost all if not all, family members can appreciate because of its basic flavor profile. For a fresh tomato sauce that tastes like summer all year long, we use this recipe.
A member of our AirFryeReview team reviews each of our culinary recipes.
There are a lot of different kinds of tomatoes that are at their best and have the most flavor in the summer. They may look good in the winter, but their taste is usually bland and disappointing.
It's better to buy cherry tomatoes in winter though, as they have a lot more sugar than normal tomatoes.
During cooking, the cherry tomatoes explode and caramelize in olive oil. This cherry tomato pasta sauce is full of fresh flavors and is a great topping for pasta. The dish's flavor and color immediately identify it as Italian.
Whether it's winter or not, you can improve tomatoes by roasting them. It makes their taste more concentrated, which makes them taste sweeter.
Also, cooking tomatoes makes them more nutritious. Tomatoes have a powerful antioxidant called lycopene in them. Scientific research has found that cooking tomatoes give you more nutrition. Tests have shown that when a tomato is cooked, the body can get more lycopene from it than when it is raw.
Even more, nutrients are absorbed when tomatoes are cooked with olive oil, which is why they are better for you than raw tomatoes.
This post has a recipe card at the end of it that has the exact amounts of each ingredient and the whole process. Please have a look at it.
Pasta: It makes no difference what type of pasta you use to cook roasted cherry tomato pasta. We used spaghetti in this case but you may use any sort of pasta you choose. Simply boil the pasta until it is "stiff to the bite."
Garlic: Take fresh garlic, no garlic that has been preserved in a container or powder form.
Olive Oil: Olive Oil that is Extra Virgin is called Olive Oil. When I make this dish (and almost all Mediterranean dishes), I like to use olive oil because it has the best taste.
Salt & Paper: You can add sea salt flakes and ground black pepper to the dish as you like.
Sugar: A pinch of sugar might assist in reducing the sharpness of the tomatoes. A small amount really makes this dish look and taste great.
Dried Oregano: Most of the time, I prefer to use fresh herbs. However, I like the taste of dried oregano better than fresh oregano. The dried herb has to have a milder flavor. It blends in with other flavors instead of taking over them.
Fresh Basil: Basil along with tomatoes must be one of those tastes that complement one another very well.
Nonetheless, I've heard they prefer to be placed adjacent to one another in the garden. It is said that basil helps keep bugs away and makes tomatoes grow and taste better.
Cherry Tomatoes: Roasting cherry tomatoes bring forth their best flavors. The taste gets even better with roasted tomatoes.
Detailed Instructions for How to Do Things Step by Step
You should always wash and dry your tomatoes before eating them. The tomatoes should be cut in half or thirds, depending on how big they are and how many you want to make.
Pour olive oil over the tomatoes in a non-stick pan and mix them together. The tomatoes will cook in the pan. Stack them up in one layer and sprinkle with minced garlic and half of the basil leaves, as well as sugar and salt, and pepper. Distribute them out in such a single layer after that.
Roast for 30 to 40 minutes, until the tomatoes start to fall apart and get a little brown.
Roasted cherry tomato pasta should be cooked al dente. Toss the tomatoes with the pasta water you saved after cooking them. For more liquid consistency, you can add some of the pasta water.
Frequently Asked Questions (FAQs)
Do not rinse your pasta after it's done cooking; the rinsing takes away important starches from the sauce. When pasta is heated, starch is released into the water, thickening it.
It's a good idea to always keep a small amount of the cooking liquid for yourself. Add the sauce to the pan with the spaghetti and tomatoes, and stir to combine. Use the finest ingredients you possibly find even for a basic recipe such as this one. A very ripe tomato has the best taste.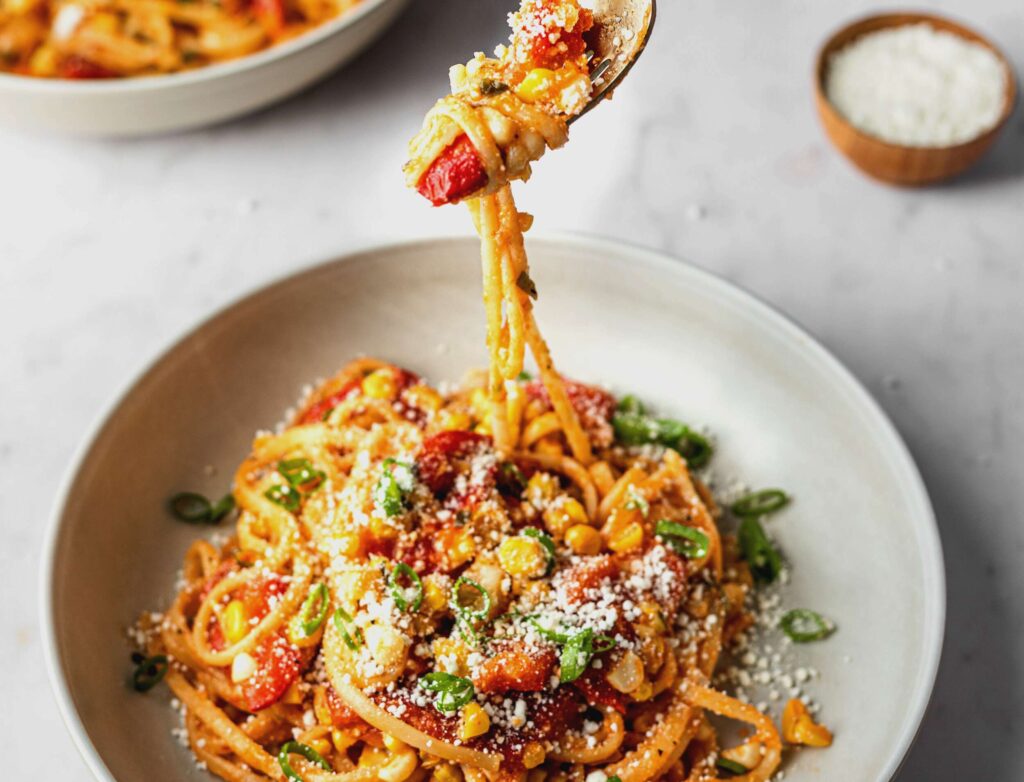 Is It Possible to Use Dried Basil in Place of Fresh?
I strongly recommend using fresh basil in this recipe. The flavor and perfume of this young plant are reminiscent of the first days of spring. The dried herb has a wholly distinct flavor profile.
Which Type of Pasta is Best for This Recipe?
Choose your preferred pasta. You can either use a short pasta like penne or a long noodle like spaghetti like I have done here. Alternatively, fresh pasta works magnificently well in this recipe as well!
Which Oil is The Finest to Use?
With such a small number of components, it is critical to utilize the highest quality to obtain maximum flavor. Make use of the best quality olive oil available. Extra virgin olive oil is the oil of choice for this recipe but I must say it is a troublesome component of the dish.
Is It Possible to Use Bigger Tomatoes?
You certainly can. Simply chop them into roughly the same-sized pieces as a cherry tomato.
Can The Tomatoes Be Cooked on The Stovetop?
Without a doubt, you can. Indeed, cooking time will be reduced a little. In a large, chilly skillet, combine the olive oil and garlic. Garlic should be gently heated until aromatic, maybe a minute or two at medium heat.
Take care that it does not absorb an excessive amount of color or it will taste bitter. Toss in the remaining ingredients according to the recipe directions. When the tomatoes begin to fall apart and spill their juices, the dish is done. 10 to 15 mins max should be enough time for this.
Can The Tomatoes Be Prepared in Advance?
You very certainly can, even if just for a day or two. Simply reheat the tomatoes until they are ready to be added to the heated pasta.
Can The Roasted Tomatoes Be Frozen?
Roasting the tomatoes is also an excellent technique to preserve them for the next weeks or months. I like to store a portion in zip-lock containers for fast pasta sauces.
Can I make pesto cherry tomato pasta?
Certainly! You can make pesto cherry tomato pasta. Pesto is a mixture of basil leaves, garlic, pine nuts, and olive oil, along with Parmesan cheese. Nothing compares to the taste of handmade pesto.
In a large mixing basin, combine the pesto and half a cup of the roasted cherry tomato pasta sauce. Add the cooked spaghetti and toss to incorporate.
What Quantity of Spaghetti Do I Require Per Person?
This is entirely dependent on the presentation of the pasta. If it's a starter or a side dish, it's typically around 55 grams/ 2 ounces. It fluctuates between 80 grams/3 ounces and 100 grams/3.5 ounces for a main entrée. I used 100 grams for each person since I am aware of my visitors' appetites.
In Terms of Serving:
Serve the sautéed cherry tomatoes over spaghetti with freshly grated Parmesan.
All that is required for a complete supper that can be made quickly and easily is a loaf of crusty bread to soak up the delectable juices and a tossed salad on the side.
Additional Delicious Recipes to Try
One of our favorite ways to eat tomatoes is with our Roasted Cherry Tomato Pasta. If you enjoy cooking with tomatoes as well, be sure to try these other delectable recipes: