The frozen chicken breast air fryer recipe is a juicy and tender chicken recipe that can be an excellent side dish. These are bursting with flavor and oozing with juice! With salads, rice dishes, and more, this flawlessly fried chicken is an excellent choice.
Honestly, this is the air fryer recipe that I've made the most. To be honest, I use it for a slew of different stuff besides just quick fries. I've used it on other meats, vegetables like carrots and zucchini, and so on.
The nicest part is that I can make it even if I don't remember to thaw the meat in time, aside from the fact that it is delicious and quick. Then there's the fact that it can be paired with just about any other item such as spicy basmati rice on the side, sliced, and serve over salad.
How Do You Cook Frozen Chicken in An Air Fryer?
To cook an air fryer frozen boneless chicken breast recipe, you can use a 360° preheated air fryer.
Place the chicken breasts in the basket of the air fryer and cook them to your liking. For a 165° internal temperature, cook for 20-25 minutes.
Ingredients for Frozen Chicken Breast Air Fryer Recipe
Here are the ingredients you need to make this delicious air fryer frozen chicken breast recipe.
3 chicken breasts without bones or skin.
olive oil, 1 tbsp.
Paprika, 1 tsp
black pepper grounded 1 tsp
Sea salt in a tsp
minced garlic (½ tsp)
Instructions for The Frozen Chicken Breast Air Fryer Recipe
Follow the instructions below for the frozen chicken breast in an air fryer recipe
Step: 1 Preheat the air fryer as per instruction (165°F).
Step: 2 The chicken would benefit from being brushed with olive oil. Rub the chicken with oil. The chicken breasts should have the spice mixture applied on both sides before cooking. Stack a single layer of the seasoned skinless chicken breasts into the air fryer's basket.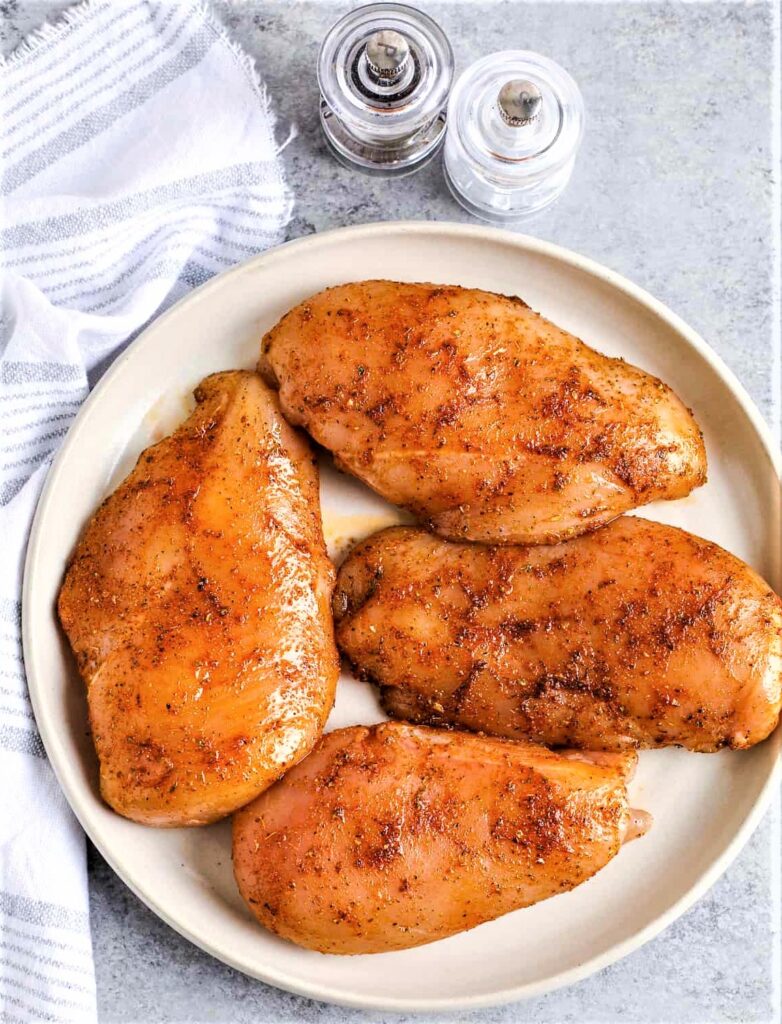 Step: 3 Cook the chicken breast for up to ten to fifteen minutes. Change the side and cook for extra 5 minutes.
Step: 4 In order to ensure that the internal temperature is correct, measure it. Depending on how thin or thick the chicken breast parts are, the cooking time will need to be adjusted accordingly.
Time Duration to Cook Frozen Chicken in The Air Fryer
Don't worry if you forget to preheat the fryer, the cooking time won't be much affected. Ideally, I do this because it gives my dish a nice deep-fried crisp.
The chicken breast thickness will determine the cooking time. At a temp of 400°F / 200°C, the frozen breast will take 15 to 20 minutes to cook. Set the temperature not, less than 165°F/74°C.
The time duration for the recipe for frozen chicken breast in an air fryer will be
Around 10 minutes for 1.2 cm or ½ inch thick or thicker.
About 15 minutes for a thickness of 2.5 cm or 1 inch
20 to 22 minutes for 4 cm or 1 ½ inches.
28 to 30 minutes for 2 inches thicker breasts.
Amount of Nutrients in Frozen Chicken Breast Air Fryer Recipe
Cooking a recipe for frozen chicken breasts in an air fryer is very easy. It's a healthy and delicious recipe as it needs less oil than any other cooking process. Though nutritional value is a gross approximation, this recipe is nutritious. Here is a list of nutritional evaluations.
| | |
| --- | --- |
| Calories | 186 kcal |
| Carbohydrates | 1.3g |
| Protein | 30.6g |
| Fat | 6.4g |
| Saturated Fat | 0.6g |
| Cholesterol | 76mg |
| Sodium | 476mg |
| Potassium | 31mg |
| Fiber | 0.5g |
| Sugar | 0.3g |
| Calcium | 8mg |
| Iron | 1mg |
What Food Goes Well With Frozen Chicken Breast Air Fryer Recipe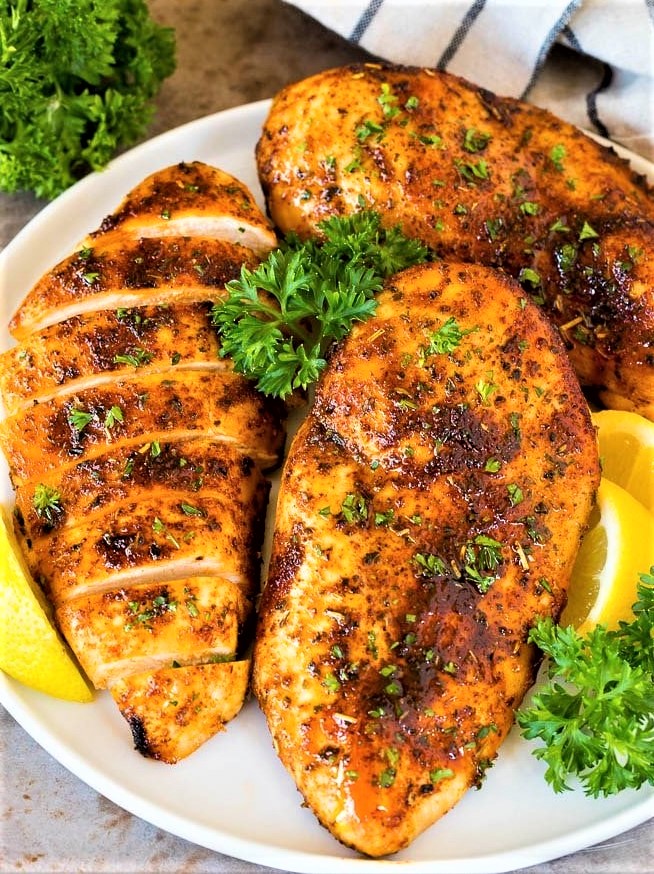 You can serve frozen chicken breast air fryer recipes with a simple salad dressed in yogurt. On top of that, a vegetable salad looks appealing! A combination of BBQ and veggie rice can be served with this dish. You can also make some potato wedges or fries. Roasted cauliflower, carrots, or Brussels sprouts could also be a good option.
Frequently Ask Questions – FAQ
Can I Cook Frozen Chicken in An Air Fryer Without Thawing?
Yes! you don't have to defrost the chicken prior to air frying. Gently season with your preferred seasoning combination and air fried to juicy perfection to cook the frozen chicken breast air fryer recipe.
How to Store Leftover Chicken Breast?
Take the leftover chicken breast and keep this in a zip-lock bag or air-tight container for future consumption. Please make sure not to overfill the container.
What Is The Safe Temperature to Cook Chicken in An Air Fryer?
It's especially recommended if you prefer your frozen chicken breast air fryer recipe juicy. Using this method, you will be able to tell exactly when it has reached the safe limit temperature of 165°F / 74°C.
Can I Flip The Chicken in Air Fryer?
For a dense cooking item like chicken, one has to flip to cook the chicken fully. Cook the breast side of the chicken for 45 minutes in a 360-degree air fryer. Flip the chicken and cook it for 15 minutes more, or until an instant-read thermometer reads 165°F in the thickest section of the breast.
Additional Delicious Recipes to Try
One of our favorite ways to eat beans is with our Beans on Toast Recipe. If you enjoy cooking with beans as well, be sure to try these other delectable recipes: