Are you a finger food lover like me? If your answer is affirmative, then this pizza rolls in air fryer recipe are only for you! These mini pizzas are delicious, tasty, and crunchy as well. Whenever you are pouring one of them into your mouth, the cheese will melt in your mouth.
This mouth-watering recipe is super easy to make.
People who follow my channel already know how lazy I am while cooking. I always prefer an easy yet delicious recipe to cook. So today I am going to share one of my most deliciously crisp pizza roll air fryer recipes with you.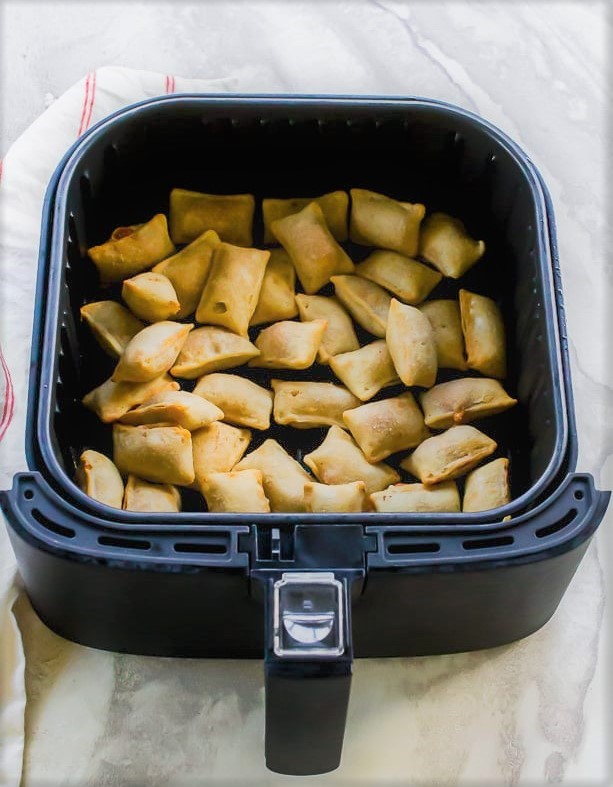 Total Time Duration To Cook Pizza Rolls in the Air Fryer?
One should cook pizza rolls in air fryer at 380 degrees Fahrenheit. To get the perfect crisp rolls, air fry the anthem for up to 8 minutes. If you have a different air fryer model, you might need to prepare your rolls for a shorter or longer time.
Ingredients You Will Need to Make the Pizza Rolls in Air Fryer
You can buy store-bought frozen pizza rolls or you can make them by yourself. If you want to make air frying pizza rolls just like me, check your kitchen to ensure you have these ingredients
Pizza dough, evenly cut into 12 pieces, thinly smeared
pizza sauce; quarter cup
Minced garlic, 1 tsp
Italian seasoning; ¼ tsp
Diced pepperoni; half cup
Shredded mozzarella cheese; 1 cup
Cooking spray
Recipe for Making the Air Fryer Pizza Rolls
Air-frying pizza rolls are easy to make and a delicious crunchy recipe for any time! Here go the detailed instructions for the air fryer pizza rolls recipe.
Set the air fryer temperature to 400°F. After that, make a line baking sheet for easy removal.
For seasoning, mix garlic, pizza sauce, and Italian seasoning together. Keep it aside for future use.
Spritz some flour on the work surface. Make a 10-inch square out of the pizza dough. Now cut the dough into 12 smaller pieces of squares. Place all of them separately on the baking sheet.
Top each of the squares with pizza sauce, seasoning, 1 teaspoon of cheese, and 1 teaspoon of pepperoni.
Apply water to the dough's edges. It will make the edges strong to be sealed. Now fold
As a final step, fold in each of the two corners on either side of the center to look like a wide open envelope.
To finish, fold the upper corner down and seal the package with the ingredients aside.
Take the rolls and spread all of them evenly in the basket. Use cooking spray to coat the rolls. Now cook them until they become golden brown in color. If needed, work in batches.
8 minutes in the air fryer, or until a deep golden-brown color is achieved. Add ranch dressing or pizza sauce on the plate for drizzling and enjoy!
What Is Totinos Pizza Air Fryer
Totino's pizza rolls air fryer, is a famous frozen pizza brand. The Totinos pizza air fryer recipe is the easiest to make. You just need to open a pack of twotinos pizza rolls and preheat the air fryer. After preheating, remove the basket and spread the pizza rolls in an even layer.
Then just cook them for 7-8 minutes. Shake the rolls after half of the cooking time. Cook them until the rolls become golden brown in color. Now, place them in a serving dish and enjoy!
What Temperature Do You Need to Cook Totinos Pizza Rolls?
You should cook the pizza rolls in air fryer at 380 degrees Fahrenheit for 7 minutes. Do not overcook them.
How Do You Make Pizza Rolls in Air Fryer Taste Better?
Well, sometimes when I get enough time to make this quick recipe, I mix some salsa with mango, cilantro, and lime. This can make the rolls great to taste! You can try this dipping sauce to make your pizza rolls in air fryer appetizers into a feast.
Nutrient Evaluation of Frozen Pizza Rolls in Air Fryer
Unfortunately, air fryer pizza rolls pack a hefty caloric punch, containing 220 calories (six servings). The excessive fat percentage could potentially clog arteries, making them extremely fattening and potentially harmful. frozen pizza rolls in an air fryer are quick and convenient, but they're not very healthy. They're best saved for special occasions.
Eating store-bought pizza rolls every now and then is probably not harmful if you stick to nutrient-dense foods for the most part. If you want to eat healthily, aim to consume a minimum of 90% calories from whole foods, with treats accounting for the remaining 10% (or even less!).
Store-bought pizza rolls can be unhealthy but homemade rolls are not that unhealthy. So I always prefer making them on my own and storing them in the refrigerator.
Tips & Tricks
Avoid overcrowding the basket of your air fryer! The air won't be able to travel properly if there are so many roles in the fryer at a time!
Before putting the pizza rolls in the basket, spritz the basket with spray oil if you have a tendency for food to adhere to it. Crispier pizza rolls can be achieved by spraying them with a little coat of oil before baking.
If you don't want your rolls to stick to the pan, take the basket and give it a good shake to cook properly.
Reduce the cooking time by a few minutes to get the perfect crisped pizza rolls, otherwise, they will explode in the air fryer.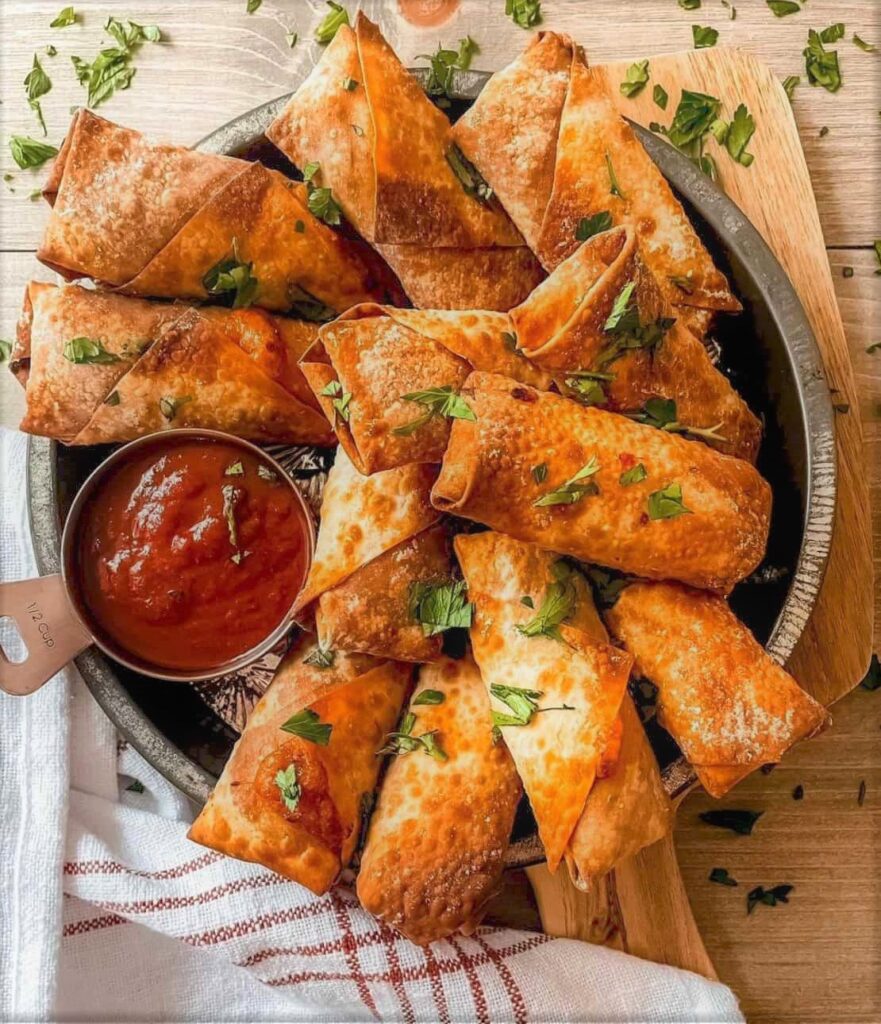 Frequently Asked Questions – FAQ
How Do You Make Pizza Rolls in an Air Fryer Without Exploding?
Ah! These little pieces of joy can turn into a monster if you overcook them. So try to avoid overcooking them. You can also poke holes with forks before cooking so that steam may escape. After about half the cooking time, try flipping them over.
What To Do To Remove the Sogginess From Pizza Rolls?
Pizza rolls sometimes get soggy. You can follow this method to avoid this. Place a kitchen tissue or paper towel inside the basket to dry it out properly. Pizza rolls will not become soggy after that. Try this and please let me know in the comment box.
How To Make Pizza Rolls Extra Crispy?
You don't need any extra oil for pizza rolls, but to make them crisp, you can sprinkle a spoon of oil while air frying them.
Can I Freeze Pizza Rolls?
Certainly! You can freeze the uncooked pizza rolls up to three months for later consumption. You have to put these rolls in an airtight box. For future use, cool the rolls completely before cooking.
Additional Delicious Recipes to Try
One of our favorite ways to eat beans is with our Beans on Toast Recipe. If you enjoy cooking with beans as well, be sure to try these other delectable recipes: