Scotch egg recipe air fryer, a classic British pub food recipe consisting of a crisp sausage wrapped around a creamy soft-boiled egg, is great for brunch, snacking, and even taking along on a picnic.
Scotch eggs are now readily available in a wide variety of establishments throughout the United Kingdom, from pubs to supermarkets to gas stations. As a Sunday brunch delicacy and a mainstay at Renaissance fairs in the United States, Scotch eggs are less well recognized in the rest of the world.
The dipping sauces are normally served separately, which makes them a common sight on pub menus in the United Kingdom.
Cooking scotch eggs in an air fryer has never been easier!
Can You Cook Eggs In An Air Fryer?
Of course, you can! It only takes 3 to 5 minutes to fry eggs in an air fryer. When using an air fryer, one doesn't need to preheat the appliance.
What Is A Scotch Egg Recipe Air Fryer?
The air fryer scotch egg recipe is a traditional British meal. A hard-boiled egg is encased in sausage and breadcrumbs before being deep-fried or baked till golden brown and crispy. It's a common cold meal at British pubs and outdoor gatherings.
Until now, scotch eggs were reserved for individuals who avoid deep-frying at home. Air-frying, on the other hand, has made it easier than ever to make your own version of the snack.
How Do You Fry An Egg in An Air Fryer?
I prefer to buy locally, which implies that the eggs are deposited by happy chickens in surroundings with plenty of room surrounding them. Organic eggs from pastured hens are another excellent choice.
Spray a thin layer of olive oil on the surface of your air fryer pan.
Add the eggs to the pan by breaking them open with a fork.
Set your air fryer temperature to 370 degrees F.
Set a timer for three minutes and begin.
If you're not sure, try it out for yourself. If it needs extra time, or if you prefer the yolk to be a little thicker, simply add another minute to the cooking time.
Ingredients You Need for Scotch Egg Air Fryer Recipe
Plain sausage meat weighing 1 lb or 450 g
5 or 6 cooked eggs
Beaten raw eggs (one or two)
Almond flour or coconut flour or any other preferred coating can be used as a coating for this dish.
50 g flour, or half a cup
Hot sauce and/or mustard (optional for serving)
Chopped mixed herbs, 2 tablespoons
a little amount of mace powder
One tablespoon of English mustard
Panko or handmade breadcrumbs: 1 cup or 100 grams
Vegetable oil to cook with
Perfect Recipe for Cooking Scotch Eggs In An Air Fryer
Bring six eggs to a boil in a saucepan, then remove from the heat and allow to cool. After simmering for five minutes, immediately transfer to an ice bath for at least ten minutes.
Season the meat with salt and pepper, mustard, and mace in a bowl, and mix thoroughly with your hands. Moisten your hands before shaping the balls will help prevent the sausage from sticking to your hands.
Refrigerate each part after it has been formed into a ball.
Peeling the eggs should be done with care. For six-minute eggs, you need a delicate touch; the yolk inside is too tender, so they will shatter if you are too rough.
Once the eggs have been peeled, rinse them and blot them dry with a paper towel.
Covering Eggs With Sausage
On paper, place a meatball in the middle of the square. Gently press the meatball until it is about a one-fourth-inch thick.
Hold the square in the palm of your hand. Lay a chilled, dry, soft-boiled egg on the larger portions of the oval on top of the sausage.
As you wrap the sausage around the egg, be sure to carefully remove it from the parchment. Continue until all of the sausages have come free from the paper and completely encased the egg in it.
Make sure the sausage isn't too thin or too thick in the egg. Level them out.
To smooth out all the bumps or rough places that may have formed on your hands, slide the egg over and over between your hands a few times with moderate pressure on your hands to do the job.
Scotch Eggs Breading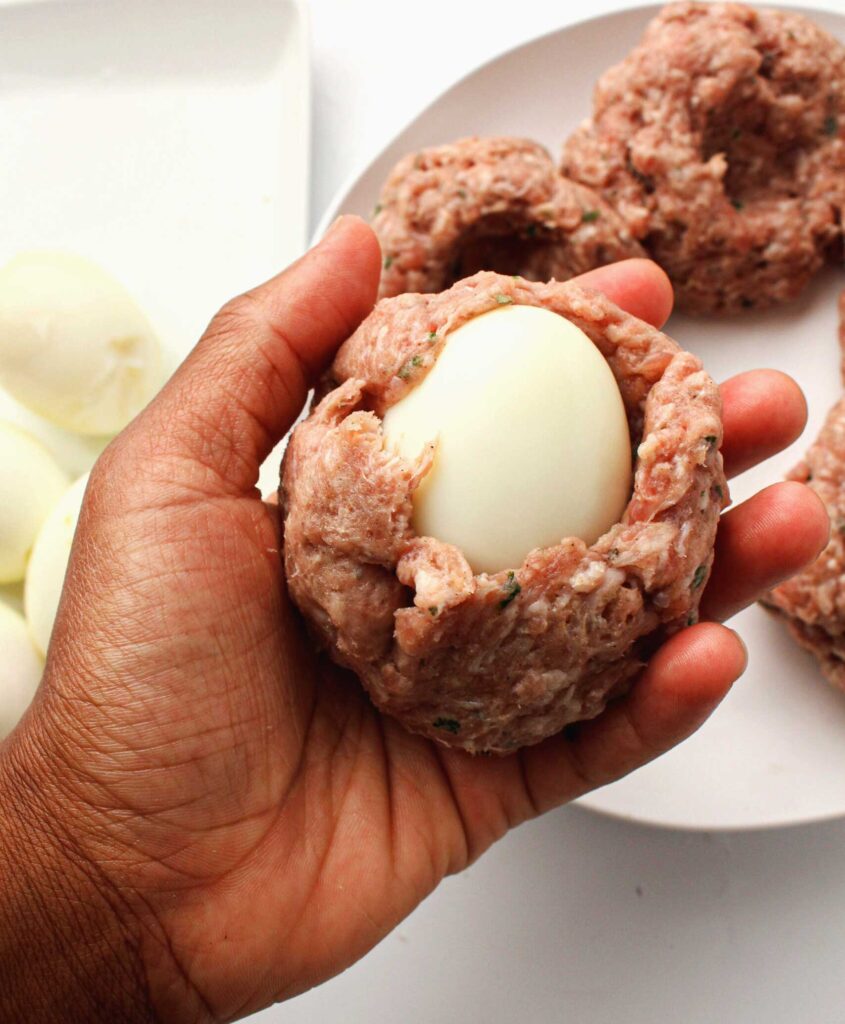 About six slices of Cold bread are all you need to prepare your own breadcrumbs. Place in a blender after being cut into quarters. The bread should have a medium crumb after a few pulses.
In a separate bowl, whisk together two raw eggs with a bit of milk until smooth.
In a third bowl, add the breadcrumbs and season with salt and pepper. Assemble in an orderly fashion.
a. Bowl 1: Almond flour or coconut flour
b. Bowl 2: Beaten eggs
c. Bowl 3: breadcrumbs with salt and pepper
Cover every sausage-covered egg in bowl 1, the flour mixture. Brush off the excess, then soak them in the beaten egg mixture (Bowl 2). and next roll them in the crumbs (Bowl 3). Just as you would while forming a meatball, pass the rolled eggs from one palm to the other many times after finishing the last bowl of rolling. This helps to shape and structure the exterior crust while exerting significantly less external pressure.
Scotch Egg Recipe Air Fryer
For 10 minutes, heat the air fryer to 380°F (193°C).
Prepare your fryer basket by placing scotch eggs on the bottom of it. Make sure there is enough room for air to flow around each one.
Eggs should be air-fried for 12 minutes, flipping halfway through to ensure an equal browning process.
How Do You Air Fry Eggs In A Ninja Air Fryer?
Ninja food scotch eggs only take 3 to 5 minutes in an air fryer. There's no need to preheat the pan or the air fryer.
Is Scotch Egg Recipe Healthier?
This scotch egg recipe air fryer has 50% more protein and twice as many omega-3 fatty acids than your typical hen's diet. This recipe can also be called a keto scotch eggs air fryer recipe.
Incorporating iron-rich black pudding and pine nut-spiked breadcrumbs into your sausage casing boosts the number of body-building calories, while the addition of both fats and fiber helps lower cholesterol.
Nutrition Evaluation of Scotch Egg Recipe
The scotch egg recipe air fryer is a huge hit in our test kitchen. Air fryer scotch egg recipes are a great option for breakfast and lunchtime since they are packed with high protein.
Cooking scotch eggs in an air fryer is a super healthy and low-carb diet recipe. The nutritional evaluation will also prove this. Have a look at the nutritional chart!
| | |
| --- | --- |
| Amount per serving |  6 servings |
| Calories | 236 cal |
| Total Fat | 10g |
| Saturated fat | 3g |
| Unsaturated fat | 7g |
| Cholesterol | 248 mg |
| Sodium | 283 mg |
| Carbohydrates | 23g |
| Fiber | 1g |
| Sugar | 2g |
| Protein | 12g |
Frequently Ask Questions – FAQ
Will Eggs Explode In The Air Fryer?
Some may have claimed that eggs burst inside the Air Fryer, however, this is false. Eggs do not explode in an Air Fryer if they are cooked properly.
How Long Do Eggs Take In An Air Fryer?
The scotch egg air fryer recipe takes a minimum of time to cook! 17 minutes of cooking time is enough. The temperature should be 270 degrees Fahrenheit for such fresh eggs.
Prepare a bowl of icy water for the eggs after they have been removed from the air fryer basket with care. After ten minutes, transfer them from the cold-water bath.
What Temperature Should Scotch Eggs Be Cooked?
Remove one of the eggs and use a Thermapen® to measure the temperature after it has been fried for around 4-5 minutes and is golden brown. It should be at least 150 degrees Fahrenheit (66 degrees Celsius).
For reheating scotch eggs in an air fryer, set the temperature at 350 degrees Fahrenheit and cook the scotch eggs for 3-5 minutes.
Why Do My Scotch Eggs Split When Frying?
While making a scotch egg recipe air fryer, you should be very careful when molding the scotch eggs. Make sure that there are no places where the egg can be seen, or else they may split as they are being cooked.
Shape the scotch eggs such that the eggs are entirely covered in sausage meat so that there are no places where the egg can be seen, otherwise, they would split while cooking.
Additional Delicious Recipes to Try
One of our favorite ways to eat beans is with our Beans on Toast Recipe. If you enjoy cooking with beans as well, be sure to try these other delectable recipes: