Thinking about an effortless snack for the evening? Frozen sweet potato fries in air fryer can be the best option. If you have some frozen sweet potato fries in the freezer then you can cook these fries as an evening snack. So, in today's recipe, I am going to share my air fryer frozen sweet potato fries recipe with you.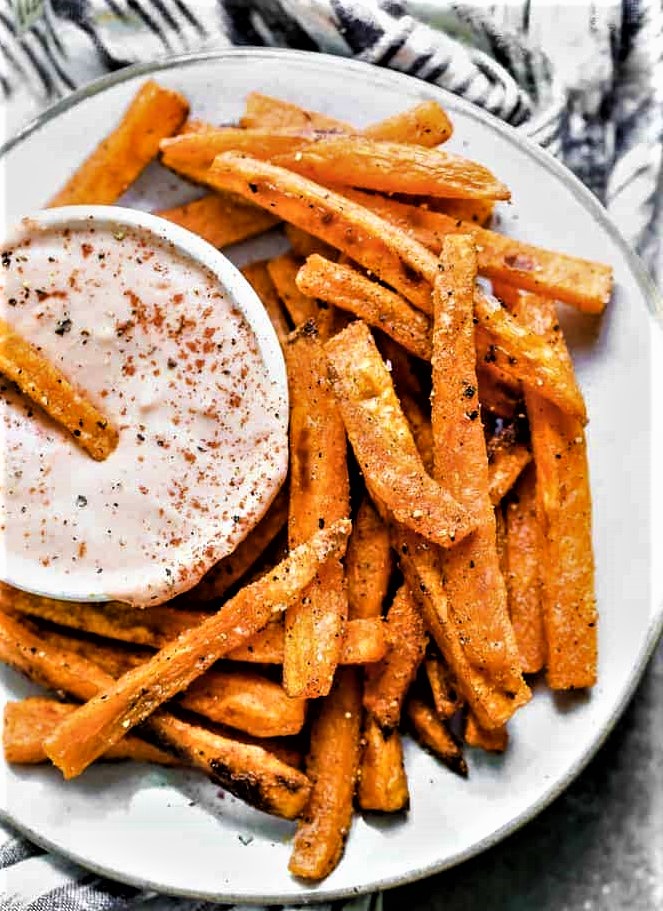 If you're as enthusiastic about the air fryer as I am about it, you'll find this recipe useful also. The frozen sweet potato fries air fryer recipe is much more healthy than deep frying fries in oil for a long time. Moreover, the outside of the air fryer frozen sweet potato fries are crisp but the inside is very soft. So everyone loves it.
Products Needed To Make Air Fryer Frozen Sweet Potato Fries
You will need frozen sweet potato fries. The frozen potato fries I am using are the alexia sweet potato fries air fryer. These are stocked in the packaged food sections of local stores. You're free to substitute whatever brand you choose. Remember that different brands have different thicknesses (due to the different cutting ways).
You can sprinkle cooking oil if you want. I prefer using a little bit of oil so that the food doesn't adhere to my frying basket. It's ok if you don't use oil.
Seasoning is undoubtedly the winner to make the recipe delicious. You can use garlic, paprika, salt, parsley, black pepper, etc as the seasoning. Sweet potatoes with salty seasoning can make this recipe a great evening snack.
Detailed Recipe For Frozen Sweet Potato Fries In Air Fryer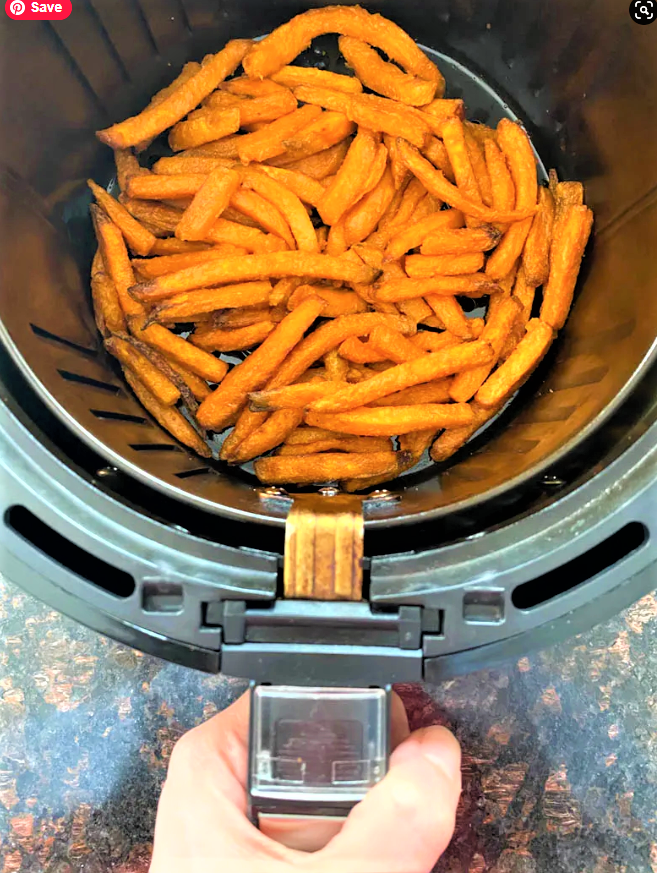 Warm up the fryer up to 400 degrees Fahrenheit.
When the fryer is ready, place the fries in a thin layer in a basket or on a tray. Spread the potato fries in a layer.
Lock the lid on and air fry at about 400 degrees Fahrenheit for 12 minutes. Divide the duration into 3 sections. On one-third (4 mins) of the given time (12 mins), give the fries a good shake. Use anything to shake the fries. Shake the fries again in two-thirds of the given time (8 mins). Lock the lid and keep frying.
Please don't stuff more than half of your items into the basket at a time. In case you own a small air fryer, you should cook the potato fries in two phases.
Take a peek at the fries to see if they're done (After the timer beeps). If you prefer your fries extra crispy, toss them and air fry them for another 2 minutes.
You can enjoy these fries with any sauce. Mustard sauce dipping, tartar sauce, or ketchup and tomato sauce are good options. They're delicious on their own, too! You can pair this meal with anything! Burgers, pizza, pasta, anything will go with these fries. This is why frozen sweet potato fries in the air fryer recipe are known as a great side dish.
Nutritional Values Of Air Fryer Frozen Sweet Potato Fries
Deep-frying French fries are not only healthy but also messy. I don't prefer consuming too much oil for French fries. But I also love to eat this. So an air fryer is the safest option for me. It's healthy and nutritious as well.
| | |
| --- | --- |
| Calories | 10 kcal |
| Carbohydrates | 2 g |
| Protein | 1 g |
| Fat | 1 g |
| Saturated Fat | 1 g |
| Sodium | 3103 mg |
| Potassium | 41 mg |
| Calcium | 5 mg |
| Fiber | 1 g |
| Iron | 1 mg |
| Sugar | 1 g |
| Vitamin A | 493IU |
Frequently Ask Questions: FAQ
Which Frozen Sweet Potato Fries Air Fryer Brand Will Be The Most Appropriate To Use?
For the frozen sweet potato fries air fryer recipe, I choose the alexia sweet potato fries air fryer. There are other companies, such as Trader Joe's, Whole Foods, and Trader Joe's. You should amend the timing for frying. Remain vigilant on the fries while they cook.
My Fries Aren't Crispy, What Can I Do With Them?
You undercook the fries. Try adding some more minutes (2-3 minutes) to fry them.
Can You Tell Me The Cooking Method For Alexia Sweet Potato Fries (Crinkle Cut)?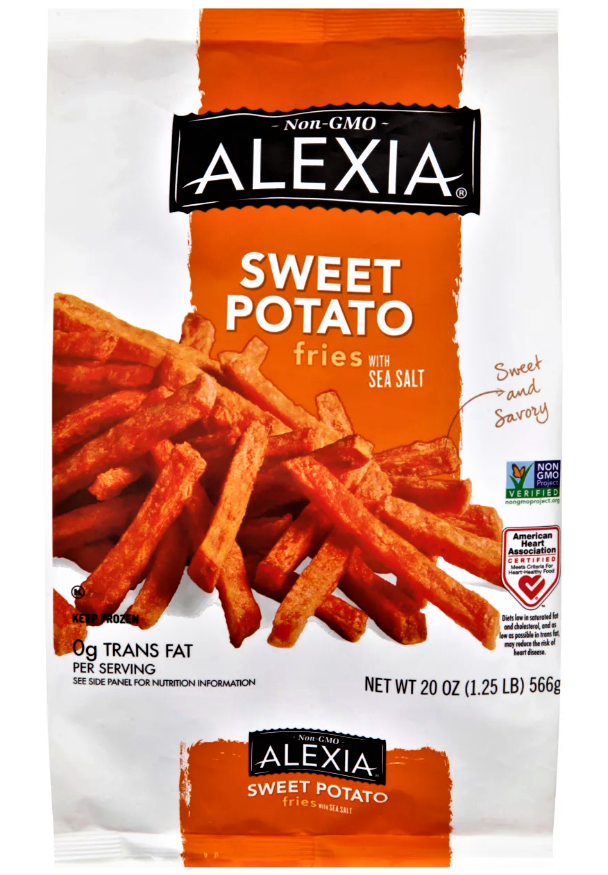 Place fries as you desire in the fryer basket. Spread the fries in the basket so that they do not overcrowd the basket. Make sure the fries have room to breathe. Spread them flat in the basket. Now, air fry them for 5 minutes at 205°C (400°F), and shake the basket. Then flip the fries over and fry for another 5 minutes. Done! They are ready to eat, easy, right?
Can You Tell Me The Cooking Method Of the Alexia Sweet Potato Puffs Air Fryer?
The Alexia potato puffs can go to the air fryer basket without any pretreatment. Place the Alexia sweet potato puffs air fryer in the basket and cook for 15 mins. A crispness indicator is a golden-brown color of the puffs. It will be ready to serve then.
Can I Fry my Fries Again In The Air Fryer?
It is possible to fry the fries in an air fryer for 2–3 minutes extra. Set the temperature at 350 ℉.
If You Have Frozen Sweet Potato Fries, How Can You Season Them?
Take frozen French fries and season them with salt and whatever else tickles your taste buds. You can season it with onion powder, garlic powder seasoning, or Italian seasoning.
Are There Any Negative Effects Of Eating Frozen Sweet Potato Fries?
FYI, no there isn't! Sweet potato fries are healthy as a nutritious meal. While deep frying usually involves oil, an air fryer doesn't need any. So you can eat as much as fries.
Additional Delicious Recipes to Try
One of our favorite ways to eat beans is with our Beans on Toast Recipe. If you enjoy cooking with beans as well, be sure to try these other delectable recipes: