Reheating rotisserie chicken in air fryer is the best option. In comparison to conventional ovens and microwaves, Yesterday I was so tired from doing too much work. I couldn't gather any motivation to get up and cook.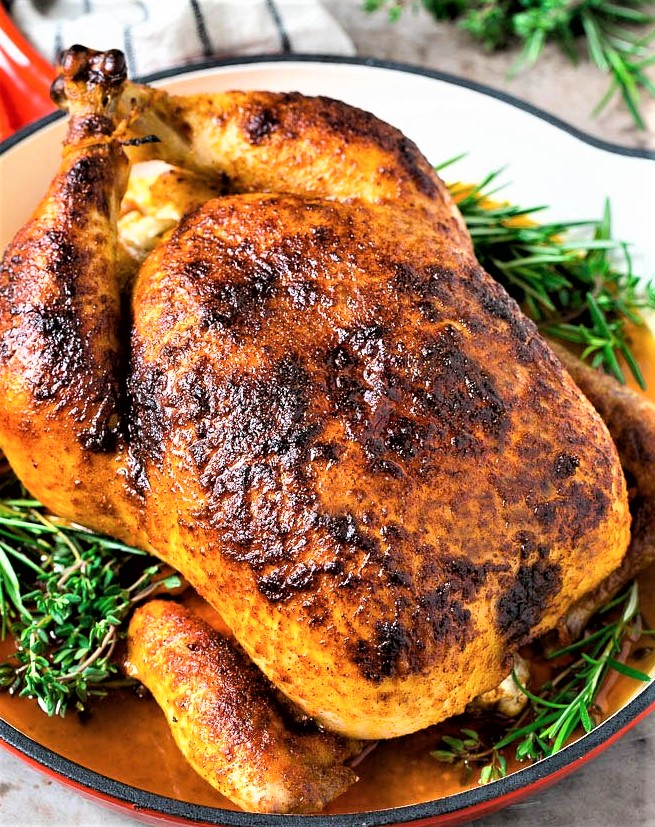 I was about to order food online when I remembered that I have a whole rotisserie chicken. Then I thought of reheating the whole chicken in the air fryer. Why an air fryer though? It takes time and effort to preheat the oven. You won't get crispy chicken from the microwave. You're going to experience some hot spots and soft, soggy skin.
Start reheating rotisserie chicken in an air fryer to savor every last bite of it. The air fryer helps to keep the frozen rotisserie chicken tender and juicy. Air frying requires little oil. So this is a healthier alternative to conventional frying.
Can You Reheat a Roasted Chicken?
Yeah sure, and I'll show the best way to reheat a rotisserie chicken in an air fryer today. This is the quickest and most convenient method for reheating rotisserie chicken. It also has the same flavor or tenderness as the original. A delicious crust forms while the interior remains juicy and tender. In other words, it looks like day one.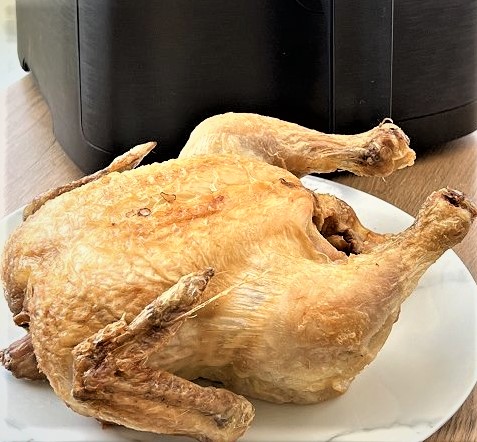 Do Air Fryers Work For Reheating Rotisserie Chicken?
The response is yes. You definitely can reheat cold rotisserie chicken in air fryer. When you attempt to do it for the first time, you won't believe how delicious and simple it is.
For the cooked one or the store-bought one, you will reheat it in the same fashion. That is, you can cook it in the air fryer's basket or on its rotisserie.
Ingredient List To Reheat Whole Rotisserie Chicken In Air Fryer
You only need the chicken to prepare delicious reheated roasted chicken in air fryer. There's no need to use cooking spray. Since we'll be dicing the rotisserie chicken before air-frying, its size is irrelevant.
Preparation For Reheating Rotisserie Chicken In An Air Fryer
Reheating chicken in an air fryer is convenient. You can either reheat the entire chicken or reheat the chicken in pieces. Reheating the chicken in pieces is more efficient than reheating the whole chicken. Yet, it is not required! I will show you the two ways so don't worry.
Entirely Reheating
Keep the chicken in the air fryer's basket. and activate the rotisserie function if the appliance is oven-style.
Complete a whole chicken for the basket. Adjust the thermostat to maintain a constant temperature. Set the temperature at 180 degrees Centigrade (360 degrees Fahrenheit). Heat in an air fryer for 3 minutes on each side or in a preheated 400F oven for 8-10 minutes. Turn the food over at the halfway point of the cooking time.
Run the chicken through the rotisserie function. Cook for 5–6 minutes at a temperature of 360°F/180°C, or until cooked all the way through.
Now, your rotisserie chicken is ready! Serve and enjoy!
Frequently Asked Questions – FAQ
Can You Tell The Difference Between A Roasted Chicken And A Rotisserie Chicken
Putting a full chicken in an air fryer or an oven to roast it without using a rotisserie rod is a roasted chicken. "Rotisserie chicken" is the only food prepared to utilize the rotisserie method.
I Already Ate Some Of The Chicken, Can I Reheat This Now?
Even if you've already finished eating some of it and plan to cook the rest, that's fine. Rub lemon zest into the exposed meat while reheating rotisserie chicken in an air fryer. It will keep the chicken from drying out.
Why Reheating Rotisserie Chicken In Air Fryer?
The versatility and low price of rotisserie chicken make it a smart choice for the food budget. It's a cheap alternative to fresh chicken for recipes like soups and casseroles.
Though stored in the fridge, we can have juicy, tender, and fresh rotisserie chicken. You can make quick and healthy meals by reheating rotisserie chicken in an air fryer. It will also cost you minimal effort. It is a go-to meal for people who are always in a rush. They usually don't have time to sit and cook.
What Is The Time Duration For Reheating Rotisserie Chicken?
Only 5 minutes!! Yes, more or less than 10 minutes will do the magic. Then you are going to have a yummy tummy with this rotisserie chicken using an air fryer!
How Can I Reheat A Rotisserie Chicken Without Having It Dry Out In The Process?
Reheating rotisserie chicken in air fryer to a higher temperature will cause it to dry out. It will actually recook the chicken rather than reheating. This necessitates more precise attention to timing and temperature.
What Is The Lifespan Of Rotisserie Chicken?
When refrigerated, one should eat the cooked rotisserie within four days. One can keep a rotisserie chicken for up to 4 days purchased from a store. Keep it in the freezer if you want to keep it for a long time. When frozen, it would keep lasting up to a month.