Waffle Fries in air Fryer Recipe is such a simple recipe! Waffle fries can go from frozen to hot and delicious  in under 10 minutes. The best part is that the end result is wonderfully crunchy and crispy. These frozen waffle fries prepared in an air fryer are a delightful treat. In today's recipe, I'll explain everything in detail so that you can do it with ease, and I guarantee that once you do it once, you'll want to make it a regular habit.
These frozen waffle fries prepared in air fryer are a delightful treat. As usual, I provide advice for making homemade, low-calorie waffle fries. It's crucial to have a few different choices, in my opinion.
Regarding options, you can season these waffle fries in air fryer with whatever you like. Typically, extra salt is added to frozen french fries before they are packaged. Season with black pepper, BBQ rub, Cajun seasoning, Italian seasoning, or anything else that strikes your fancy.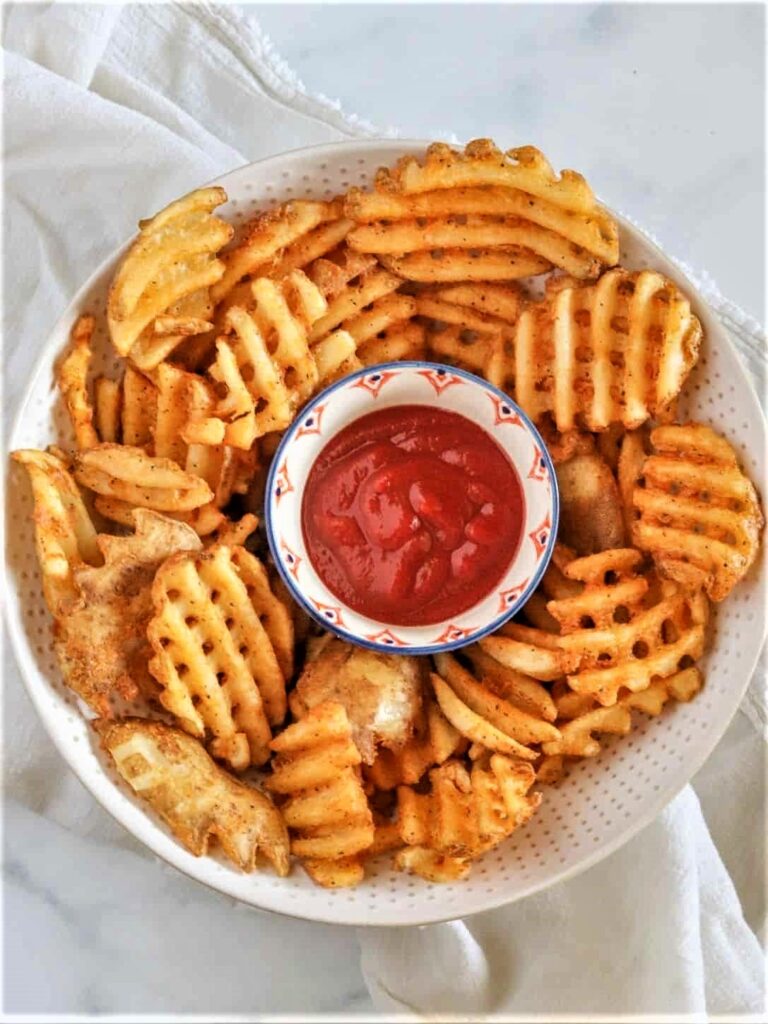 Necessary Ingredients to make the waffle fries in air fryer
● Frozen waffle-cut fries, 1 pound (454 g)
A bag of frozen waffle fries is all you need to make them in an air fryer. There are a variety of readymade waffle fries such as Alexia Waffle Cut Sweet Potato Fries, Ore-Ida Golden Waffle Fries. Both brands required the same amount of cooking time. You can use Alexia sweet potato waffle fries air fryer recipe to make those delicious crunchies as a side snack.
● salt and
● Black pepper to taste
A Detailed Waffle Fries In Air Fryer Recipe
● Spread the waffle fries in the fryer basket of the air fryer. As there will be some overlap. If using an air fryer oven, place the tray containing the fries on the highest rack possible.
● Cook in an air fryer at 400 degrees Fahrenheit (200 degrees Celsius) for 6 minutes. Toss the fries around once they're done. The fries should be moved to the center of the tray if they are browning more on the edges. Add another 6 minutes of air-frying time. Once all of the fries are done, toss them into a single basket and return them to the oven for another 3 to 5 minutes at 375 degrees Fahrenheit to crisp up again. Total air-frying time should be between 12 and 14 minutes.
● Add salt to taste, then toss everything together. Have fun with those fries!
● When possible, offer dipping sauce alongside the appetizer. Put on Your Favorite Fixings! These waffle fries can be enjoyed in countless ways; salt, pepper, and ketchup are just the beginning. You can season them with onion powder, garlic powder, or your favorite blend of spices. Fresh rosemary, lil bit of seasoned salt, and fresh olive oil are all great additions.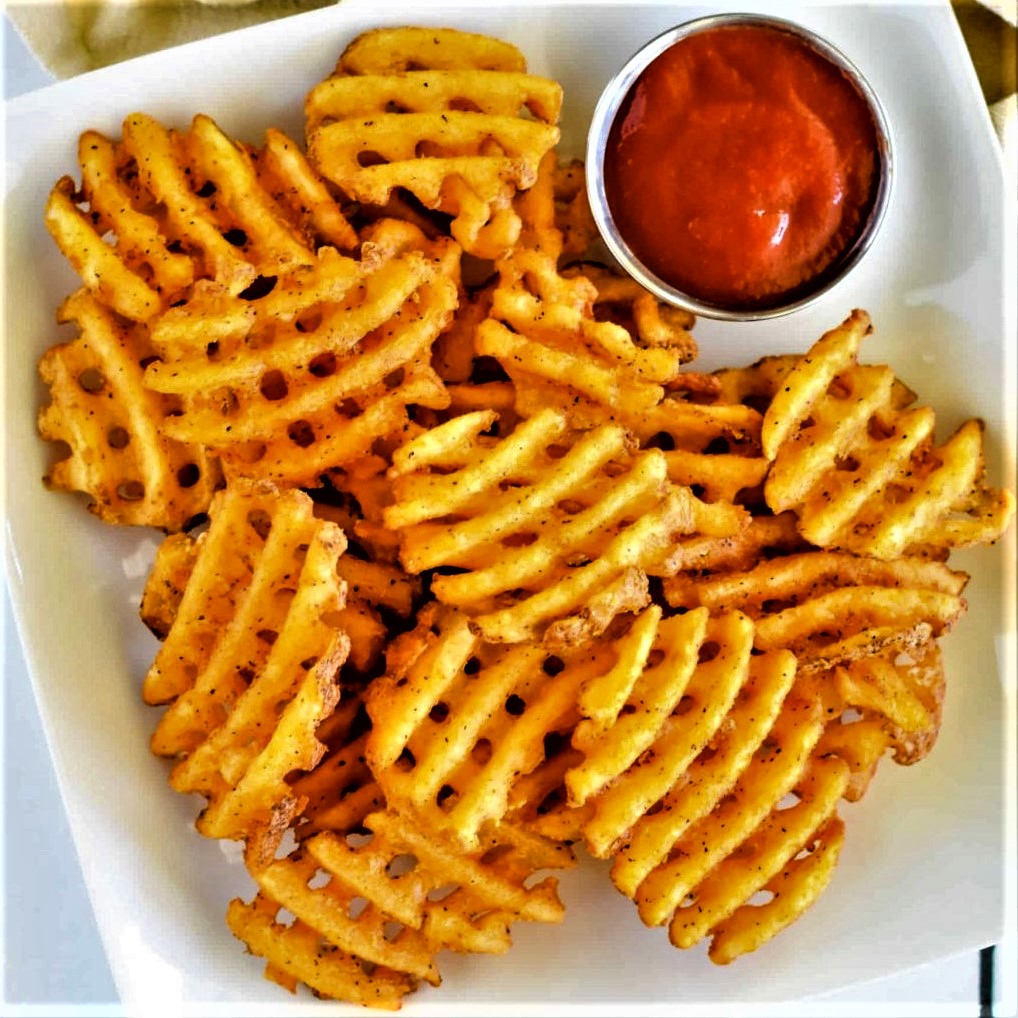 Some Pro Tip To Make The Best Waffle Fries In Air Fryer
● We can fry waffles in air fryer without using any oil at all. Putting it straight from the freezer into the fryer is fine.
● If necessary, give it a shake or a spin. The frying basket should not be stuffed.
● For accurate timing, start your air fryer cold before beginning this recipe. It's possible that subsequent batches of fries cooked in succession will be ready to eat sooner if you cook them in smaller increments.
● Don't forget to use a timer to shake, flip, or toss the ingredients as directed in the recipe.
● It's possible that subsequent batches of fries cooked in succession will be ready to eat sooner if you cook them in smaller increments.
● Cooking time for waffle fries may need to be adjusted if a larger capacity air fryer is used.
● In case of using a preheated fryer or for the second batch of frying, You may need to cut back on cooking time by a few minutes.
Nutritional value
The only things I'm putting in these air fryer frozen waffles are a pinch of salt and oil, so they're totally diet-friendly! These fries are great for anyone you're serving. Those who are health conscious or those who are on a strict diet, can eat these without any doubt!
All the values are in estimated numbers.
| | |
| --- | --- |
| Calories | 519.01 |
| Fat (grams) | 11 g |
| Sat. Fat (grams) | 1.59 g |
| Carbs (grams) | 96.69 g |
| Fiber (grams) | 12.18 g |
| Net carbs | 84.52 |
| Sugar (grams) | 4.32 g |
| Protein (grams) | 11.18 g |
| Sodium (milligrams) | 130.31mg |
| Cholesterol | 0 g |
The Best Way To Reheat Frozen Waffle Fries In Air Fryer
For maximum crunch and flavor, enjoy your air fryer frozen waffles as soon as possible after cooking. However, if you have leftover fries or simply want to prepare these in advance, they will keep, refrigerated and airtight, for up to two days.
Waffle fries can be reheated in an air fryer by placing them inside the frying basket and setting the temperature to 350 degrees Fahrenheit. They need to be warmed for about 5 minutes to be completely ready to eat.
Frequently Ask Questions – FAQ
Do I Need To Put Extra Oil In The Fryer?
No spray oil or other additives are necessary. Simply place the frozen waffles in the air fryer and cook as directed. However, you can lightly spray them with a spray oil if you want your waffles to be extra crispy.
Should I Oil Splash The Frozen Fries Before Serving?
Extra oil won't affect these deep-fried waffle fries. Air frying causes the fries to release any excess oil they may have contained. You can add more oil if you like the "oil taste" in the crispiness. We don't think we need it, so we don't do it.
When Using An Air Fryer, how much time do you need to cook frozen waffles?
All depends on the circumstances! The results will vary depending on the waffles you use and your own tastes. A perfectly cooked waffle can be ready in as little as four to six minutes. For more information, see the Notes section on the recipe card.
When are waffle fries done?
Because you only have a pot, be mindful when dropping them into the oil so as to prevent a splash. Fry them for about 5 minutes, or until they reach the desired golden brown in color, and then drain them.
What Are Some Ways To Spice Up Frozen Waffle Fries In Air Fryer?
Feel free to customize your meal by choosing different condiments. Even though these frozen waffle fries in air fryer seem to be great with nothing more than salt, pepper, and ketchup, they can be enjoyed in countless other ways as well. To season them, you can use onion or garlic powder. You can use your favorite blend of spices as well!
If you have a sweet tooth, you can also enjoy delicious eggo waffles in air fryer. This is also a delicious evening snack or morning breakfast served with tea/ coffee.
Don't be shy about telling your social media followers about it!